World-Class Services
Materials Management
We provide world-class material, compound and sample management services to our customers to assist them in streamlining their drug discovery.
Maintain and expand any research collection
Web-based inventory control
Real-time screening and reagent sample management
Stoichiometric weighing
Inventory Management
Frontier Scientific Inc. ("Frontier") accommodates research collections of any size. Full repository services include registration, short and long-term storage, net inventory capture, material analysis to confirm purity and integrity, reformatting to specified weights, concentrations, and arrays, and full set or cherry-picked sample distribution.

Frontier provides a secure and dedicated web interface for clients to access their inventory data in real-time. This interface includes an ordering system for immediate access to samples, usually delivered in 24 to 48 hours.

Frontier distributes to most locations worldwide in a variety of formats including solids in vials or plates, and liquids in tubes or 96/384/1536 well plates.
Vial Taring
Frontier routinely tares hundreds of thousands of vials and containers annually for consumable providers and end users. Frontier has developed Standard Operating Procedures to ensure consistency and accuracy. Tare weights are associated with each container barcode and captured programmatically. Labels and caps are applied to each container upon request.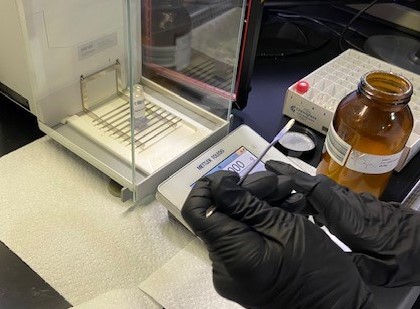 Stoichiometric weighing
Frontier weighs to milligram, gram and multi-gram quantities to meet each client's research needs. Frontier has custom-designed glove boxes for inert weighing and software systems to ensure accuracy. Source and destination container barcodes are also scanned and captured.